Grabbing a drink and some food on vacation can be a relaxing way to pass the afternoon or a convenient way to catch up with friends you haven't seen in a while.
When visiting the City of Angels (and exhorbitant pricing), finding a happy hour spot that fits your budget can be a bit tricky. Not to worry. After reading this post, you'll have the wherewithal to find a happy hour spot to fit your taste and budget.
General Tips:
Stay out of super touristy areas. Bars and restaurants on Sunset Boulevard in Hollywood, the 3rd Street Promenade in Santa Monica or the piers in the South Bay cities of Hermosa Beach and Manhattan Beach may not be the most cost-conscious options. You never know, some establishments might have some good promotions to lure in tourists, but you'll typically end up paying more.
Also, if you're interested in going to a certain bar or restaurant (perhaps one your friends told you about or that you read about in a foodie magazine or blog), check their website to see if they offer any deals (1/2 priced bottles of wine on Mondays, 2 dollars off appetizers between 4:00pm-6:00pm, etc.). Filling up on small plates during happy hour can be a great (and cheaper) alternative to a sit-down dinner. Doing your research ahead of time will help you organize your frugal happy hour adventures.
Here are some tried and true ideas to get you going:

Corkbar (Downtown Los Angeles)
403 W 12th St, Los Angeles, CA 90015
The stylish Corkbar offers great happy hour deals ($2 of glasses of wine and select appetizers and small plates). Popular with the downtown professional set.
El Carmen Restaurant and Tequila Bar (West Hollywood)
8138 West 3rd Street, Los Angeles
This luchador (Mexican wrestling) themed establishment is known for its cheap and tasty margaritas and tequila samplers. Munch on complimentary chips and salsa or order some small plates (discounted during happy hour).
Pourtal Wine Tasting Bar (Santa Monica)
104 Santa Monica Blvd.
A relative newcomer to the Santa Monica wine bar scene, Pourtal offers a large selection of international wines by the bottle or by the glass ($5 per glass during happy hour) and a variety of small plates for munching.
Otheroom (Venice)
1201 Abbot Kinney Blvd
This Manhattan-chic, spacious Venice bar offers a wide selection of imported beers and wine as well as tasty small plates. Happy hour deals between 4-6pm on weekdays.
The Glendon Bar and Restaurant (Westwood Village)
1071 Glendon Ave.
This new Westwood Village bar and eatery attracts local UCLA students thanks to its excellent happy hour prices (from 4-6pm all of the food on the "bar menu" is half off).
Chaya Venice (Venice)
110 Navy Street
If you're in the mood for sushi, head to Chaya for their sushi happy hour on weekdays, featuring a variety of inexpensive (and tasty) sushi rolls and $5 specialty cocktails.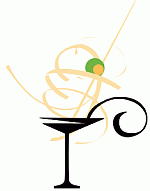 Canal Club (Venice)
2025 Pacific Ave, Venice
Great drink specials and inexpensive food items (sushi, grilled meats, etc.) bring the crowds to the Canal Club for their daily happy hour.
Saint Felix (West Hollywood)
8945 Santa Monica Blvd
During weekday happy hours, all drinks (beer, wine, and cocktails by the glass) are half off and they offer specials on food.
During your time in LA, be sure to ask locals where they go to grab a drink during happy hour. This will give you loads of ideas for places to try on future trips.
Cheers!