Thousands of tourists are lured by the wide open spaces and rugged terrain of an Australian Outback vacation each year.
But a visit to this unforgiving part of the world doesn't have to mean roughing it. There are several luxurious accommodation options in the heart of Australia's deserts. The Northern Territory is the heart of the Outback thanks to Ayers Rock, or Uluru as the locals call it. You'll find the
Voyages Ayers Rock Resort
a mere stone's throw away from this natural wonder. There are actually five different hotels in this complex and a camping ground for anyone wanting to get a bit closer to nature. If it's opulence you're after I suggest a stay at Sails in the Desert. This premium resort features several restaurants, luxurious rooms, and a swimming pool. Just seven people live in the tiny South Australian town of Parachilna, but it's worth stopping by on your Outback travels. The historic
Prairie Hotel
offers award-winning accommodation, including some rooms with romantic double spas and views of the nearby Flinders Ranges. If you're feeling adventurous a meal in the pub is in order. It specializes in what it calls "Flinders Feral Food" made from local delicacies like kangaroo, emu, native limes, and bush tomatoes. [caption id="attachment_3299" align="alignright" width="150" caption="Uluru at sunset"]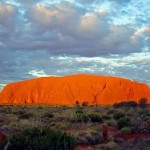 [/caption] The art deco
Royal Exchange Hotel
is located in the heart of New South Wales mining country, Broken Hill. This historic hotel has been fully restored to feature all of the conveniences of the modern world, including en-suite bathrooms, air conditioning, and data ports for internet access. The hotel's friendly staff will help you make the most of your stay in Broken Hill by suggesting popular bush walking trails and signing you up for a mine tour. Staying in tented cabins doesn't sound very luxurious, but the cabins at
Emma Gorge Resort
are something pretty special. Their raised roofs allow the sounds and scents of the great outdoors to lull you to sleep. Private en suite bathrooms and crisp, fresh linen sheets help you feel more connected to civilization than the breathtaking mountain views out your window would suggest. The resort is located in the El Questro Wilderness Park in Western Australia's Kimberley region. It's a beautiful part of the world, with hiking trails ripe for exploring and thermal springs for soaking. So why would you slum it just because you're in the middle of nowhere? If you know where to look, even the Australian Outback has some very special accommodation options.