Beach holidays should be family affairs but with many Australian beaches adopting a strict no dogs policy, it can put a dampener on that ideal. But it doesn't need to be that way.
There are many beaches around the country that open their sand to the whole family, and that means Fido too.
Byron Beach has a reputation as one of Australia's most laid back tourist centers, so it shouldn't surprise you that its Tallow Beach is chilled enough to allow pooches on the beach. There are restrictions though that dog lovers should be aware of though. While the beach extends for seven kilometers, pups are only allowed to roam in the area which runs from near Jarman Street to the northern end of Arakwal National Park. But that still gives them plenty of room to enjoy the white sand and clear waters.
If you've got a city holiday in mind, head to Sirius Cove Reserve in the Sydney suburb of Mosman. This is definitely a dog friendly place, with waste bins complete with doggy bags, and picnic and barbeque facilities. Dogs can enjoy the beach at any time on weekdays and between 4 pm and 9 am on weekends and public holidays.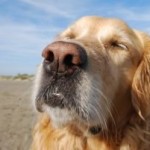 Queensland has some of Australia's best known beaches, but you'll want to veer off the tourist track if you want to bring Rover along. He's welcome at the unfortunately named Yorkeys Knob Beach near Cairns, and Sunshine Beach in Noosa. Yorkeys Knob Beach has an off-leash area at its southern end, but he must be on the leash elsewhere on the sand. Owners and canines can swim there without stress, as nets keep the stingers out. At Sunshine Beach, dogs can roam freely between Noosa National Park and the car park in Seaview Terrace. That should give him plenty of space to enjoy the beach's famous laidback atmosphere and beautiful sandy shore.
With a name like Peasholm Dog Beach, you know canines are welcomed at this spot in the Perth suburb of South Scarborough. There's plenty of space for a raucous game of fetch on the beach or a run.
It often feels like there are more dogs than humans at O'Sullivan Beach in the South Australian capital of Adelaide. During daylight savings (from October to March) dogs must be leashed between 10 am to 8 pm, but the rest of the time they're allowed to run freely and enjoy the dog exercise area, which extends from the marina to Christie Creek.
So why should Spot miss out on all the fun? With a little careful planning, your next beach vacation can be a real family holiday!