Got the travel bug but your bank account says "no way"? Working abroad can be a cost-effective and interesting way to travel.
Though this post focuses uniquely on farming opportunities around the world (for which individuals need no or very little training), keep in mind that if you are 18 or older, there are many different ways to secure free lodging and meals or make money abroad, such as
teaching English abroad
or working in a restaurant or at a resort.
World Wide Opportunities on Organic Farms
(WWOOF) Perhaps you've heard of WWOOFing. It is, by far, the most popular program for individuals seeking short-term farm work abroad. WWOOF began in 1971 in the UK as a way to provide opportunities for people to work for brief periods of time (a few days to a few months) on organic farms within the UK. The organization quickly spread to other European countries and now there are over 6,000 host farms in 88 countries worldwide. WWOOFers (as the organic farm workers are called) are not paid for their services. Rather, they participate in an exchange with the farm owner (or WWOOF host). The WWOOFer works for a certain number of hours (predetermined in an agreement with the WWOOF host) in exchange for food, accommodations  (provided by the WWOOF host) and they chance to learn about organic farming. WWOOFing opportunities vary from working on an organic vineyard to beekeeping to learning how to make artisanal ciders to shearing sheep.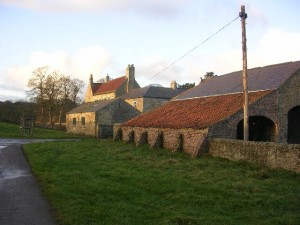 In addition to allowing you to travel on the cheap, WWOOFing is a great way to meet fellow travelers from all over the world (which could lead to more frugal travel opportunities). The WWOOFer lifestyle is, for the most part, very free and nomadic. Many WWOOFers work for a few weeks on one farm, and then travel for a while before going to another farm, etc. If you get enough assignments from WWOOF hosts, you could end up traveling frugally for several years as a WWOOFer. If you're interested in learning more about becoming a WWOOFer, visit the organization's website at
www.wwoof.org/
Help Exchange
Another organization (similar to WWOOF) that gives individuals the opportunity to work on farms around the world is Help Exchange.  Like WWOOF, HelpX is a cultural exchange for travelers who wish to learn more about farming and cultural practices abroad. Most HelpX workers spending four hours per day working in exchange for free accommodation and meals with their hosts. For more information on becoming a HelpX volunteer, visit their website at
www.helpx.net/
GrowFood
If you're looking for a domestic (within the U.S.) farming experience, check out GrowFood. The goal of the organization is to connect those interested in traveling in the U.S. and learning about farming culture with farms looking for assistance. Though arrangements differ from farm to farm, it is typically on a barter system (similar to WWOOF and HelpX). GrowFood has many opportunities for couples and families who may be interested in pursuing farm work together. Browse the farm/job listings and find out more information about the organization by visiting their website at GrowFood.org.