The marketplace is flooded with gadgets claiming to enhance your travel. Many of them are expensive, and most fail to deliver on their promises. Read on to discover five clever travel gadgets that cost less than $50.
Satisfy Your Hunger with the RoadPro 12-Volt Sandwich Maker
It seems our tummies only rumble when the next truck stop is hours away. And when we get there, the food is inevitably overpriced and unsatisfying. RoadPro puts an end to driver's frustration with its 12-Volt Sandwich Maker. Just pack a simple sandwich with your favorite fixings, and this sandwich maker will turn it in to a tasty toastie. This clever car appliance powers up when you plug it in to your vehicle's cigarette lighter. It does take a while to heat, but it can do the work while you're searching for a picnic spot. You can get yours for $29.99 from Overton's.
SteriPEN Traveler Sterilizes Your Water
At $49.95 the SteriPEN Traveler is one of the more expensive items on our list, but it's so practical that it's worth a little splurge. This clever pen uses ultraviolet light to deactivate the germs in your water. In less than a minute you'll turn the contents of a suspect bottle into deliciously drinkable water. This is the ideal gadget for anyone who loves exploring South America, Asia, the Middle East, or anywhere that water quality can't be relied upon. Get yours from the SteriPEN website.
Keep Rocking with Strontium AUTO USB Drives
Of course every vacation needs a great soundtrack. CDs take up too much space and they're targets for car thieves. Nifty gadgets like this small Strontium AUTO USB Drives are much smarter of option. They're available in four sizes: 4GB, 8GB, 16GB, and the monster 32GB model. With the 8GB one holding around 2000 songs it should be enough to satisfy the tastes of all your traveling companions! These gadgets won't work with older vehicles, but you should find the USB ports you need on any newer cars. Prices start at $5 for the 4GB model, which is impressive considering that Strontium sells the device with a limited five-year warranty. Find them at the Strontium website, gas stations, and major retailers.
Charge the Eco-Friendly Way with Mushroom GreenZero Wall Travel Charger
We all leave our cell phones and laptops to charge overnight, secure in the knowledge they'll be ready to go the next morning. But this isn't the ideal situation for sustainably-minded travelers. Bracketron's Mushroom GreenZero Wall Travel Charger is every bit as eco-friendly as it sounds. It just stops the charging once your device is full. It's really so simple that we wonder why no one came up with it before! You can also plug it into technology with 30-pin or mini-USB ports for extra versatility. You can also use it at home too to slash your energy consumption. This green device retails for just $27.95 from Bracketron.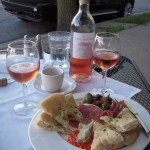 Keep Wine Safe with the Wine Skin
So perhaps the Wine Skin is more of an invention than a gadget, but it's an important addition for anyone planning a wine tasting vacation. We all love to bring a few souvenirs of our wine tasting trips home, but those precious bottles can be difficult to transport. The TSA won't let you keep them safe in hand luggage as they exceed the liquid allowance, and they often don't fare much better in the trunk of your car. The Wine Skin allows you to stop stressing and keep your wine safe. It's basically a bottle-shaped, bag made out of bubble wrap which creates an air-tight seal. The bubble wrap finish minimizes breakages, and if the worst does happen that merlot won't leak through your clothes. You can buy a bag of five for $11.95 from Wine Skin.
So don't waste your money on overpriced items you'll use for five minutes. These goodies are the real deals!