Couchsurfing is a great way to see the world without spending a lot of money. But as with many new traveling trends, the etiquette and expectations can be confusing. In this article we offer our advice for being the kind of couchsurfer that will be welcomed into any home.
In case you weren't up to speed, couchsurfing sees generous souls opening their couches, beds, floors, and homes up to tourists. With 2.2 million people in 237 countries registered as members of the couchsurfing e-hub couchsurfing.org, it seems the world has embraced this traveling trend. Through this site members connect and e-mail back and forth before bunking down in the real world.
Couchsurfing etiquette begins before you even set off for your vacation. It's important to complete your online profile on couchsurfing.org or a similar website with honest responses. Detail your likes and dislikes, and always include a recent photograph. Make sure to keep this profile up to date to ensure your prospective hosts know what they're going to get, and to ensure you find people you're compatible with.
It's also poor form to send impersonal e-mails to prospective hosts en masse. Instead choose the hosts you want to stay with carefully and send them a customized note. This message should outline your shared interests and the dates you hope to travel.
A couch at someone's home isn't simply a substitute for a hotel bed, so make sure you don't just sleep and run. People who accept couchsurfers want to share their culture with you, and to learn about yours. They're sharing their space with you for free, after all, so they deserve to get something back. Make sure you spend time with these people to make it worth their while. Arriving with a gift, particularly one that represents your culture, is also a nice touch. Coffee table books, handicrafts, or local wine or beer, where culturally appropriate, are some good ideas. Don't spend a lot of money though; a gift should be a small token of your appreciation.
During your stay make sure to observe the house rules. Take your shoes off at the front door, don't come home too late, and ask before inviting any guests back to the pad. Clean up after yourself and volunteer to assist in household chores. Drying the dishes and cooking a meal for the family can go a long way.
It's also important to remember that unlike the employees in a hotel lobby, your hosts have things to do beyond serving you. They'll need enough time to prepare for your arrival, so don't contact them at the last minute. It's also polite to avoid late night and early morning phone calls. Make sure you're conscious of any time zone differences when you do make contact.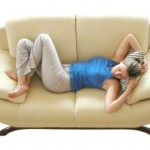 And finally, don't outstay your welcome. Couchsurfing might offer a free room, but staying any longer than a couple of nights is generally not the done thing. Remember to leave positive feedback about your host on the couchsurfing website once you depart. This online gesture of good will is often the only payment that couchsurfer hosts require.